Heyday Boats for Sale only just 94,405 dollars. Used Heyday Boats for Sale $623 monthly payments starting. 2022 Heyday WT Surf length is 25′. The hull material of the boat is made of fiberglass. The boat has been used clean and the fuel type used is gasoline. There is a full windshield for the driver.
2022 Heyday WT Surf might be just what you need. With its 25-foot length, the Heyday WT Surf is one of the company's biggest models. In addition to having a more powerful powerplant, this wake boat is equipped with faster ballast pumps and updated hull color. Thanks to the company's wake hull engineer Cotton Welshman, the WT Surf's hull design features a v-hull forward and a flatter run aft.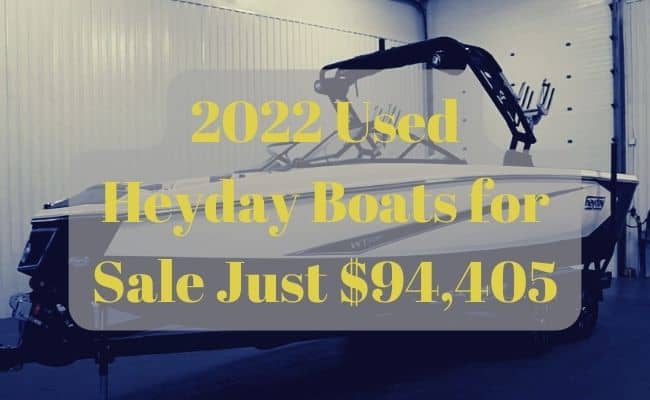 Built with wakeboarding in mind, the 2022 Heyday WT Surf is fully loaded with features designed to make your experience on the water as fun and exciting as possible. You'll find a stereo system, comfortable seats, and cup holders throughout the cabin.
The cockpit at the bow transforms into a large sunbed. It also comes equipped with ample storage. While the design of this boat was created by wakeboarding enthusiasts, its main purpose is primarily wakeboarding. The WT Surf's seaworthiness class is C. This means that it's safe for use on coastal, river, and canal waters.
Does Heyday Make Good Boats?
Although Heyday boats are at the beginner level, they received positive feedback from many users.
Is Heyday Owned by Bayliner?
Recently Bayliner company bought Heyday WT-1 boats and now this company manufactures them.
What Company Makes Heyday Boats?
Heyday boats are manufactured by the Brunswick Company.
How much is a Heyday Wake Boat?
The Heyday Wake Boat costs around $60,000.
Heyday Wakeboard Boats
For unique water and wake-sport experience, Heyday Boats offer a choice of wake-focused models that put quality first. A patented, double bow sponson hull shape ensures a smoother ride and less back pain. And with an eight-year warranty, Heyday boats are an excellent value. We'll go through the features and benefits of these boats and what makes them stand out. The list of features includes:
Integrated Wake System
Using an Integrated Wake System on Heyday boats puts the physics of the water on your side. This wake-generating system is designed to create waves with a taller "pop" and allows you to practice your tricks without the hassle of tabs and gates. The boats also feature a patented Hangout Zone, a lounge area in the stern with seating that keeps you out of the way of the action.
Wider Transoms
Heyday boats are built with wider transoms, which minimizes prop torque. This creates a natural curl in the listed side of the boat, a feature not found on other wakeboard boats. The 117-degree angled transom gives the wakeboarder a natural curl as they ride, and the wider transoms help the boat counteract prop torque and preserve the symmetry of the wave.
Glass Cockpit
There's nothing quite like sitting in the glass cockpit on a Heyday boat to get a feel for the boat. A single-piece fiberglass cockpit liner extends from the transom to the bow and incorporates a center helm, giving a boat a Formula One race car look. Despite the boat's affordable price, Heyday wake boats don't skimp on features. The stubby bow might put some people off, but it turns out to be one of its best features.
What Are the Best Wakeboard Boats?
If you are considering buying a new boat, you are probably wondering what are the best Heyday Boats Reviews. Here are some tips to help you find the best one for your needs. Depending on your budget, you may want to start with a smaller boat like a Heyday H22. Then, you can go on to larger vessels, such as the Heyday WT-1. The final thing to consider is the look and layout of the boat.
Heyday H22
If you're looking for a great wakeboard boat, the Heyday boats for sale H22 is a perfect choice. This boat offers 20 square feet of bow playpen space and is equipped with high gunnels. It also features comfortable seating with storage beneath every seat. For those looking for a more luxurious boat, the H22 features an interface for controlling ballast settings, lighting, music, and more. The 6.2L Mercury inboard engine puts out 370 horsepower, and the ballast weight is a generous 2950 pounds.
Heyday WT-1
Aside from its low price, the Heyday WT-1 also boasts a versatile design. Its side console design makes it easy to store in a garage. Its spacious interior and versatile 'Heyday Hangout Zone' seating allow passengers to watch the rider behind the boat while still facing forward for cruising. It's also easy to operate and fits in most garages. With a range of features, this is an outstanding option for people who enjoy cruising on the lake.